Schweizer Aussenpolitik im Spannungsfeld zwischen Wirtschaftsinteressen und Menschenrechten
Im Juni 2017 hat die AG Aussenpolitik der NGO-Plattform Menschenrechte Schweiz – unter Mitarbeit von foraus – das Diskussionspapier Wo bleibt die Kohärenz? Menschenrechte und Schweizer Aussenpolitik publiziert. Auf dieser Grundlage wurden das Thema und die damit einhergehenden Anliegen seither verschiedentlich in die Öffentlichkeit getragen und zur Diskussion gestellt. Mit den beiden geplanten Veranstaltungen in Neuchâtel und Bern sollen diese Anstrengungen fortgeführt werden.
Im Herbst 2018 fanden als Kooperation zwischen foraus und der NGO-Plattform Menschenrechte zwei grössere und sowohl inhaltlich als auch vom Publikumserfolg her gelungene Veranstaltungen zu menschenrechtlicher Kohärenz und Rüstungsexporten statt. Mit den zwei geplanten Veranstaltungen sollen diese Anstrengungen fortgeführt werden.
Die übergeordnete Thematik der Veranstaltungen ist die menschenrechtliche Kohärenz der Schweizer Aussenpolitik. Anhand der China-Politik und aktuellen Entwicklungen sollen die Spannungsfelder, Dilemmata und Widersprüche illustriert werden. Darauf aufbauend soll nach Wegen für eine menschenrechtlich kohärentere Schweizer Aussenpolitik gesucht werden.
Ablauf:
• Inputreferat einer Fachperson, kurze Stellungnahmen der Podiumsteilnehmende
• Podiumsdiskussion unter Einbezug des Publikums
• Apéro
Podiumsteilnehmende:
• Fachperson aus NGO- oder Wirtschaftskreisen (Amnesty International)
• Fachperson aus Wissenschaft (foraus)
The Ambassador of Liechtenstein to Geneva Peter Matt explains the role of microstates in multilateralism.
Pop Quiz & débat contradictoire sur l'initiative populaire de l'UDC "Pour une immigration modéré", soumise aux citoyens le 17 mai 2019.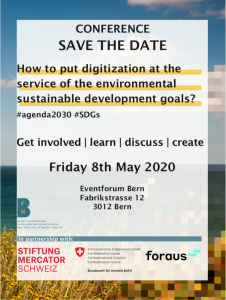 Guests: Cecilia Jimenez-Damary, United Nations Special Rapporteur on the Human Rights of Internally Displaced Persons; Prof. Vincent Chetail
Director, Global Migration Centre


Further information & registration
Gäste: Prof. Sebastian Heilmann, Gründungsdirektor des Mercator Institute for China Studies (MERICS); Stefan Brupbacher, Swissmem Direktor; Mark Dittli, Geschäftsführer und Chefredaktor von The Market


Weitere Informationen & Anmeldung
Gäste: Prof. Dr. Christian Leumann, Rektor Universität Bern; Alec von Graffenried, Stadtpräsident der Stadt Bern; Daniel Dubas, Delegierter des Bundesrates für die Agenda 2030 u.a.

Weitere Informationen & Anmeldung
Guests: Artem Rybchenko, Ukrainian Ambassador to Switzerland; Claude Wild, Swiss Ambassador to Ukraine; Olena Zerkal, Former Deputy Minister of Foreign Affairs of Ukraine a.o.