Publications
Lors des négociations sur un accord institutionnel entre la Suisse et l'Union européenne (UE), la "reprise" de la directive 2004/38/ CE (directive citoyenneté) dans l'accord sur la libre circulation des personnes (ALCP) a fait l'objet de vives discussions dans les milieux politiques, économiques et scientifiques. La crainte exprimée tenait principalement au fait que la directive citoyenneté modifie fondamentalement l'ALCP actuel conclu entre la Suisse, l'UE et ses États membres en accordant plus de droits aux citoyens UE en séjour en Suisse. Cette question de la reprise de la directive citoyenneté dans l'ordre juridique suisse est passée au second plan depuis la rupture des négociations le 26 mai 2021. Ceci ne change toutefois pas le fait que la question de cette reprise sera de nouveau "sur la table" à l'égard des attentes de l'UE et de la nécessité d'éviter l'érosion de la voie bilatérale. L'UE a en effet rappelé le 15 novembre dernier qu'elle attendait que la Suisse résolve les questions institutionnelles. Ceci inclut – pour l'UE – l'adaptation de l'ALCP aux développements de la directive citoyenneté. En février 2022, le Conseil fédéral a annoncé à cet égard une nouvelle orientation pour un paquet de négociations avec l'UE visant à intégrer ces questions dans chaque accord bilatéral. Ceci représente donc l'occasion de relancer la discussion par la présente publication. En comparant les deux ordres juridiques, les auteur·rices font ressortir les arguments que la Suisse peut faire valoir lors des futures négociations avec l'UE sur la question de la reprise des développements de la directive citoyenneté dans l'ALCP.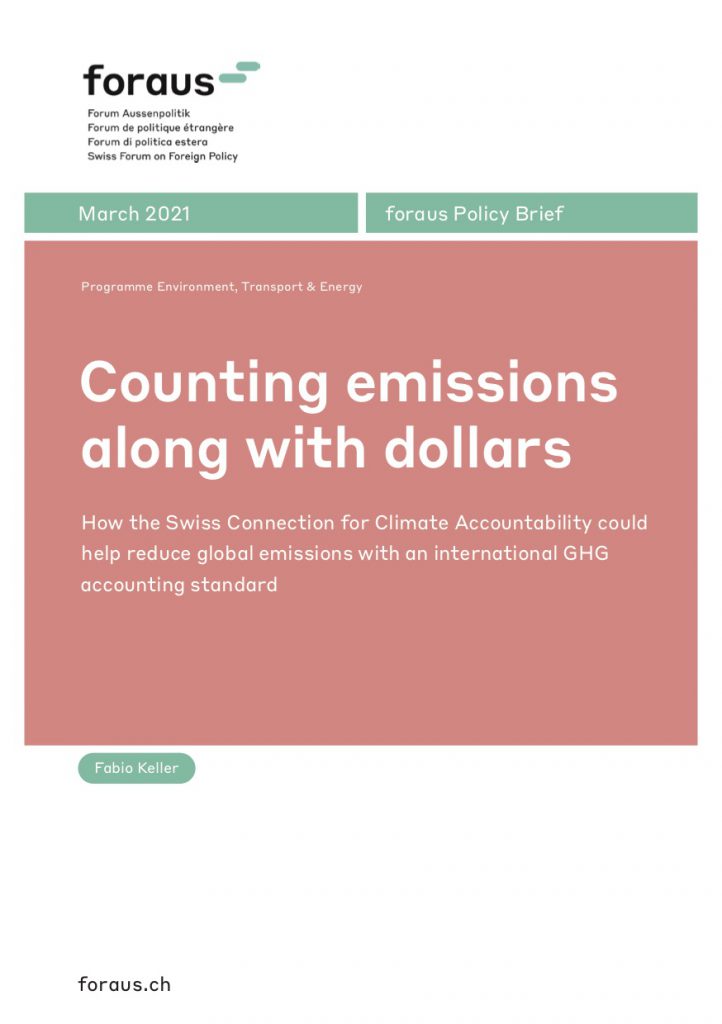 How environmentally friendly a company is on paper too often depends on its location or on the method used to assess it. Sustainable investing is challenging due to a lack of standardized methods and comparable data. Greenhouse Gas (GHG) accounting – a set of rules to account for a corporation's GHG emissions – could make sustainable investing more transparent. It enables investors to decide on the basis of a quantitative metric. Current private and national approaches in GHG accounting are only of limited use to investors because these initiatives are in most cases voluntary, limited to a single country, or applicable to specific economic sectors only. This paper proposes that Switzerland should promote transparent, sustainable investing
internationally through a multi-stakeholder coalition called Swiss Connection for Climate Accountability SCCA. The SCCA has two goals: First, for the international community to request a report from the IPCC on the potential for a global GHG accounting standard.
Second, to adapt existing GHG accounting methods for use as top-down standards to provide to the Swiss and European market independent, accessible information on corporate environmental performances. This approach gives the opportunity to require GHG emissions disclosure on the basis of a recognised, uniform standard. It has the potential to bring GHG accounting in line with financial accounting, and it would provide a basis for increased innovation and academic education.
Back to top