Publications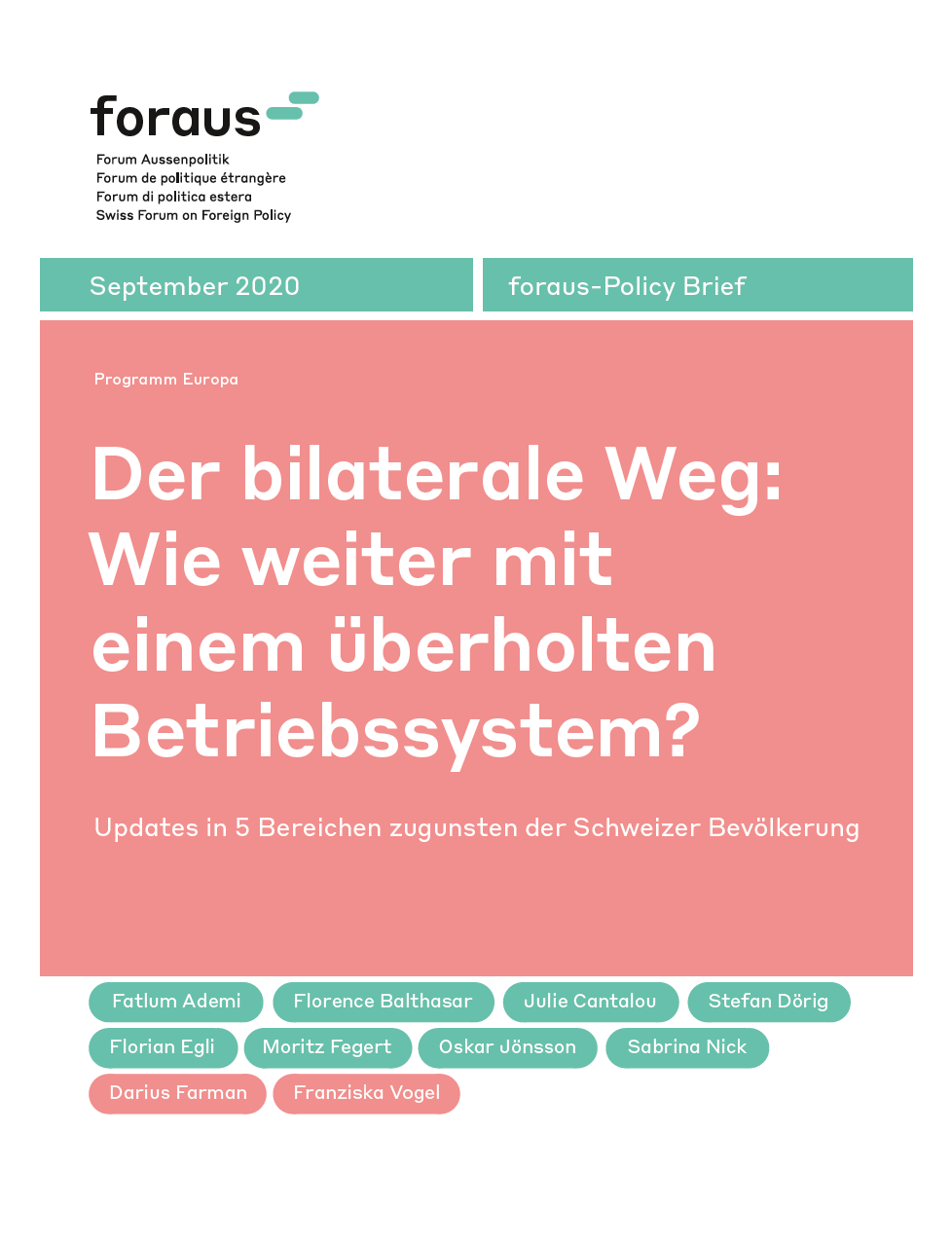 foraus präsentiert im neuen Diskussionspapier konkrete Handlungsvorschläge, wie die Beziehung zwischen der Schweiz und der Europäischen Union in fünf Bereichen vertieft werden sollen. Eine bessere Zusammenarbeit in den Dossiers Strom, Gesundheit, Telekommunikation, Umwelt und Forschung würde eine markante Verbesserung der Lebensqualität für SchweizerInnen bedeuten. Voraussetzung dafür ist die Unterzeichnung des institutionellen Abkommens.
Dans son nouveau papier de discussion, le foraus présente des propositions d'actions concrètes sur la manière dont les relations entre la Suisse et l'Union européenne devraient être approfondies dans cinq domaines. Une meilleure coopération dans les domaines de l'électricité, de la santé, des télécommunications, de l'environnement et de la recherche signifierait une nette amélioration de la qualité de vie des citoyen·ne·s suisses. Une condition préalable à cela est la signature de l'accord institutionnel.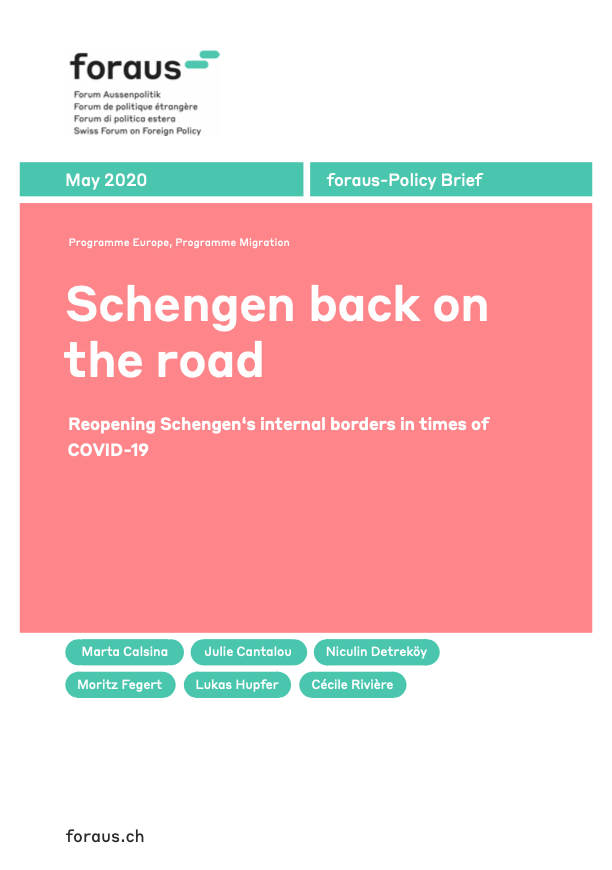 Since the end of January 2020 and the first cases of COVID-19 in Europe, the Schengen member states have been operating in a rapidly changing environment. In an attempt to limit the spread of the epidemic, they have introduced temporary border controls and travel restrictions within the Schengen area with little to no coordination. The economic, social and political costs of these unilateral measures are putting a heavy strain on the Schengen system and its member states. The absence of a joint response could have a long-lasting impact on the Schengen project and, more generally, on European integration.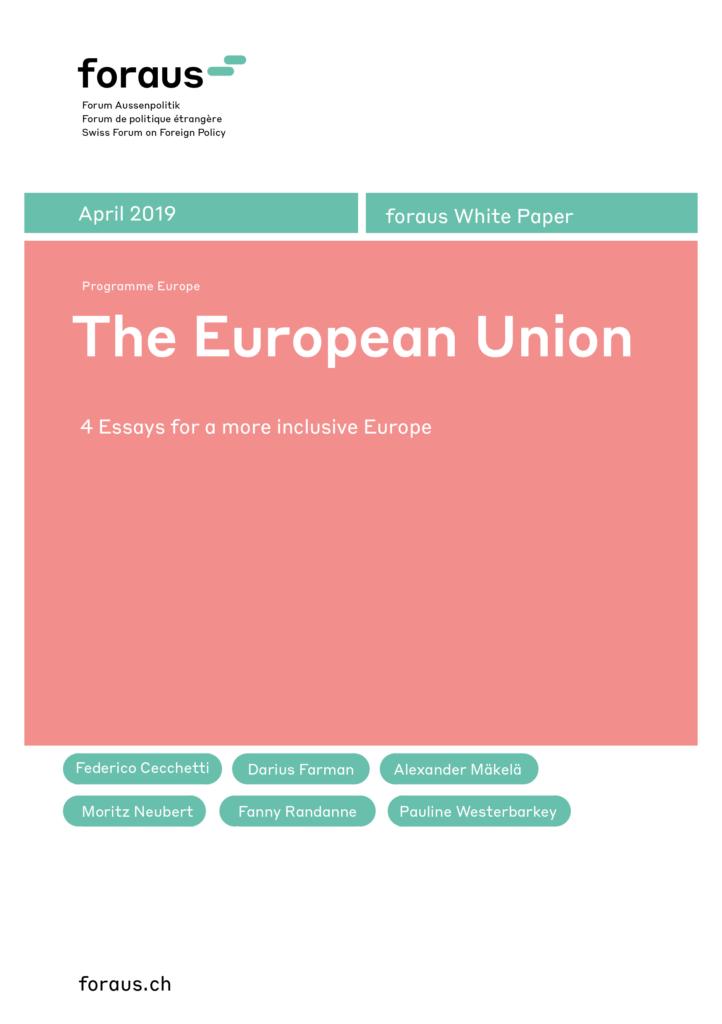 The following contributions contain proposals that address the issue of the democratic deficit of the EU. Combining their experience and different perspectives as European citizens, the authors of the following papers went through a long process of reflection. Eventually, they elaborated several original proposals to reduce the democratic deficit. Far from adopting a utopian perspective, the authors provide us with practicable solutions that would not necessitate any treaty change and that could be easily put into place if decided. The last paper reflects upon another subject: EU defence. In the current context, French and the German leaders make pleas for the constitution of a European army and thus, the topic is very timely. Adopting once again a pragmatic perspective, the author reflects upon what can be seen as the necessary condition to see the emergence of a European army one day in the future: the constitution of an EU defence industry.
La publication du projet d'accord institutionnel en décembre 2018 constitue un événement majeur dans les relations entre la Suisse et l'Union européenne (UE). Toutefois, le sort de l'accord n'est pas encore scellé. Les fortes contraintes de politique intérieure suisse expliquent largement cette incertitude. Pour sortir de cette impasse, les autorités suisses devraient tout d'abord rétablir la confiance avec les principaux groupes socio-économiques opposés à l'accord institutionnel, au premier rang desquels les partenaires sociaux, en position de faire basculer la majorité. Ces derniers voient dans cet accord un affaiblissement inacceptable des mesures d'accompagnement à la libre circulation des personnes. Si l'accord institutionnel comporte bien un volet prévoyant une réforme de ces mesures, il faut souligner que des solutions visant à en atténuer ses effets négatifs existent elles aussi. L'UE ne s'oppose pas aux mesures d'accompagnement en elles-mêmes. Bien au contraire, elle les accepte, pour autant qu'elles respectent certains principes généraux dont celui de la non-discrimination. C'est en tenant dûment compte de cette marge de manoeuvre que le papier suivant se propose d'explorer plusieurs solutions pour faire en sorte que la mise en oeuvre de l'accord institutionnel ne produise pas davantage de sous-enchère salariale.
Back to top