Many observers assess that Beijing uses its newly-gained economic power increasingly in a carrot-and-stick strategy: rewarding political "friends" with attractive loans, investments or easier access to its huge domestic market, while punishing "foes" with trade barriers or the potential withdrawal of Chinese investments in said countries. But are such threats made by Chinese officials merely rhetorical, or do they indeed bear long-lasting economic consequences? This blogpost is part of an ongoing research by the two authors that systematically investigates news reports and economic indicators from the past 20 years with the aim to inform a more coherent Swiss foreign policy strategy towards China.
Growing economic ties, but not without concerns
The free-trade agreement signed by Federal Councilor Johann Schneider-Amman and his Chinese counterpart Gao Hucheng in 2013 paved the way for a prosperous economic relationship. The trade balance has been largely positive for Switzerland, exporting more to the Chinese market than it is importing from it. More recently, in April 2019, Swiss Confederation President Ueli Maurer signaled the wish to further consolidate economic ties with China during an official visit to Beijing by signing a memorandum of understanding on the Chinese Belt and Road Initiative (BRI) – a megaproject aiming to spur worldwide trade with China. 
On the other hand, China is a regular recipient of international criticism for its handling of human rights issues. The necessity to adopt a more critical stance towards the Chinese Communist Party (CPC) and to recall China to its duties on human rights is not only advocated by several NGOs, but also by members of Parliament. While the Swiss government has been conducting regular human rights dialogues with China since 1991, it has also been criticized by observers for being too lenient in its stance towards Beijing's human rights record. The diplomatic éclat caused by visible Free Tibet protesters during Jiang Zemin's official state visit in 1999 and his public statement that Switzerland has "lost a good friend" was not forgotten easily. It took 18 years before a Chinese President came back for an official state visit in 2017. 
The Dalai Lama effect – myth or reality?
Economists found some empirical evidence that governments receiving the Dalai Lama at the highest level are punished through sanctions or non-tariff barriers, resulting in a decrease of exports to China. When the Norwegian Nobel Prize Committee awarded the 2010 Peace Prize to Liu Xiaobo, a prominent Chinese dissident and human rights advocate, China's government reacted promptly by introducing sanctions and freezing imports on Norwegian salmon. The economic relations between the two countries have eventually normalized in 2014. But in order to do so, the Norwegian government appeared to have traded concessions on human rights issues for resumed trade access to the Chinese market.
The question is therefore whether countries might refrain from criticizing China in fear of economic retaliation. Using a systematic collection of media reports, we investigate whether critical events that were directed towards China, such as a protest by civil society or a direct demand for a policy change, particularly on human right issues, were followed by a significant repercussion on economic indicators. We also look at the rhetorical reaction from the Chinese side, namely, whether the Chinese government voiced negative or threatening language as a response.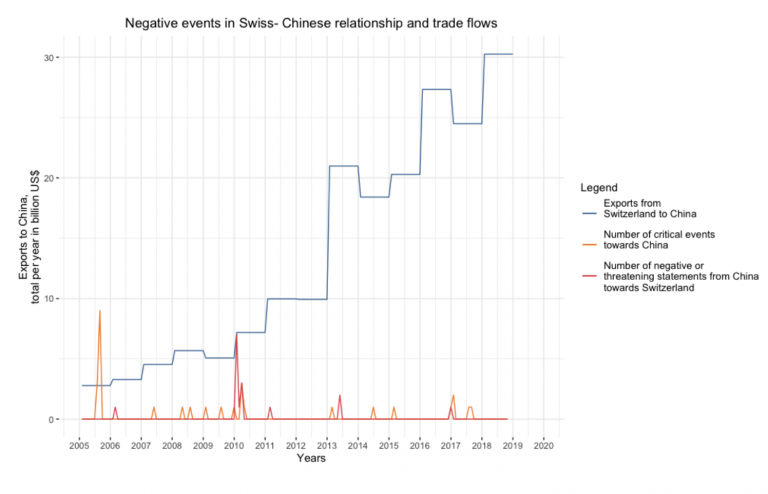 A first glance at data capturing the Swiss-Chinese relationship shows that critical, negative events towards China's human rights policy were partially followed by an assertive or threatening rhetoric. This suggests that Chinese government officials tend to publicly express exceptional discontent when facing criticisms. However, these first descriptive results do not seem to support the idea of long-lasting economic consequence of negative events on Swiss exports to China. 
In 2005, the visit of the Dalai Lama in Switzerland and his meeting with Federal Councilor Pascal Couchepin did not please the Chinese government, but it was not followed by harsh threats from Beijing. In 2010, when the Dalai Lama held a large public meeting in Zurich without meeting any executives from the Swiss government, it was followed by a more threatening rhetoric from the Chinese side. This could indicate a shift in China's strategy towards a more assertive one aimed at preventing future public criticism. Yet, the bottom line is that in both cases discussed above, the visit of the Dalai Lama in Switzerland did not have sustained consequences on Swiss exports to the Chinese market. 
The findings discussed here are preliminary, but indicate in what direction possible conclusions could go. Providing thorough evidence should be of great help when discussing what stance Swiss foreign policy should take on the balance between its humanitarian obligations and economic interests when dealing with the Chinese government. For a coherent foreign policy strategy towards China might not necessarily mean to avoid critique at all costs. 
Image retrieved from Wikimedia Commons
Event data: ICEWS, 2019 
Trade data: WITS (World integrated trade solution), based on World Bank and UNCTAD data, 2019