Publications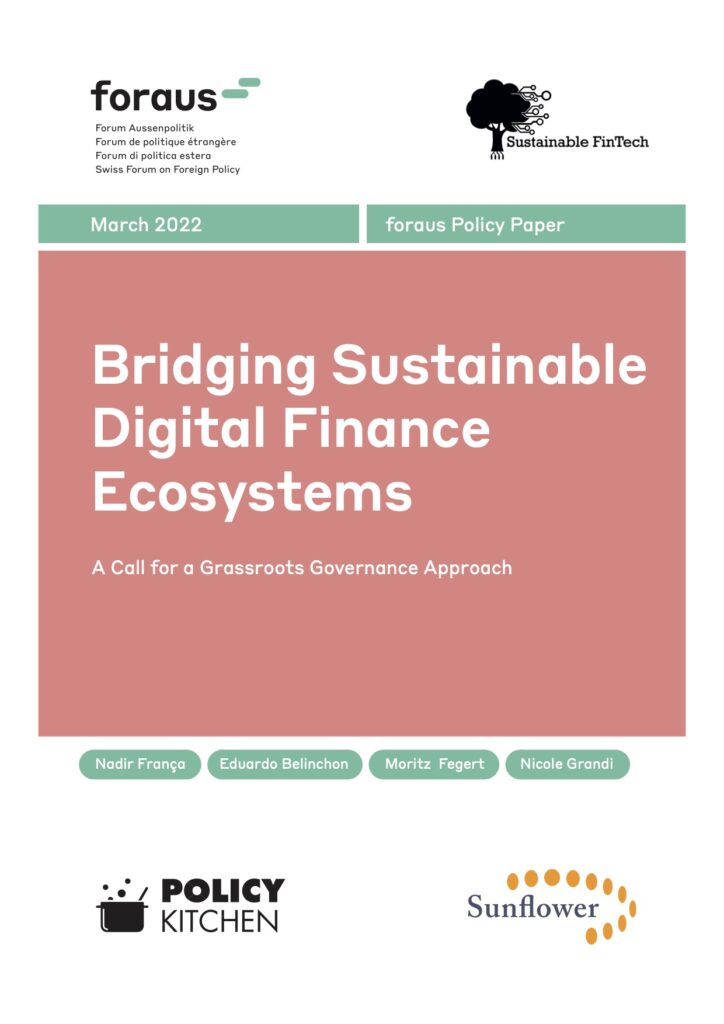 The growing attention paid to technological innovations in finance is creating substantial momentum to develop sustainable digital finance ecosystems, both at global and national levels. Acknowledging the key role that the finance industry has to play in financing the UN 2030 Agenda, grounded in the so-called 'FinTech revolution', several players and institutions are aiming to cooperate to steer the (digital) finance industry's transition to more sustainability- oriented and inclusive business models. The ultimate goal is to ensure that the development of financial innovations is guided by global challenges, such as the achievement of the SDGs.
This foraus policy paper discusses the question: What would be the ideal governance model for the global sustainable digital finance ecosystem? Based on desk research, discussions with experts, and the results from the participatory process FinTechs & Sustainability: Envisioning Sustainable FinTech Bridges, the authors argue that a grassroots governance approach should be adopted following three recommendations for action, linked to three identified phases of implementation, to provide a level playing field where different players, no matter their size, can be heard, learn from each other's experiences and support the expansion and adoption of innovations across the different ecosystems.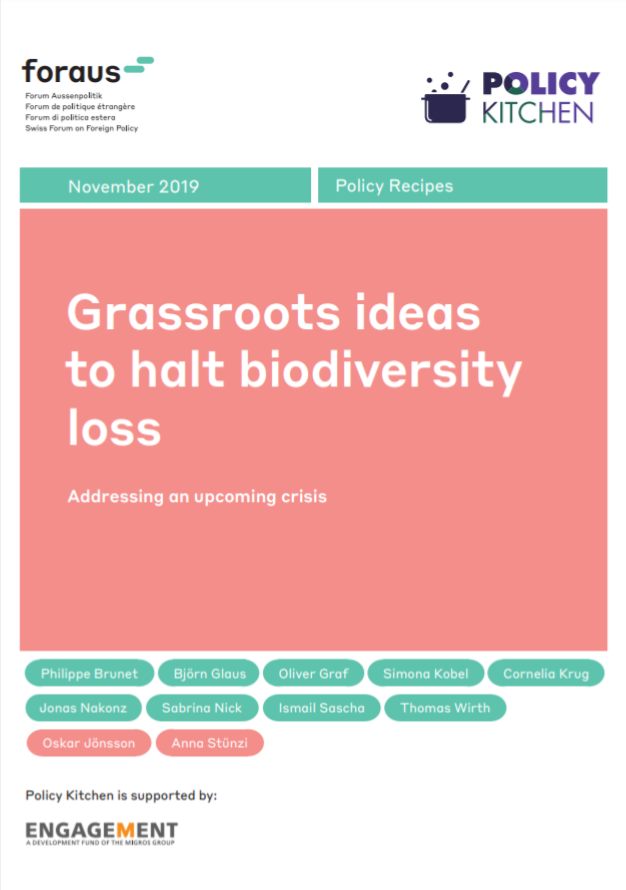 Biodiversity is in a desolate state. In their first report released in May 2019, the Intergovernmental Science-Policy Platform on Biodiversity and Ecosystem Services (IPBES) finds that biodiversity is declining at rates faster than at any time in human history, threatening ecosystem functions critical to human survival and wellbeing. While the report is novel in terms of its scope and multilateral backing, the overall trends were long known, yet largely outside of the awareness of society. That's why, in autumn 2018, foraus set out to crowdsource innovative ideas on how to tackle the biodiversity crisis through a newly developed online policy innovation tool: Policy Kitchen. Together with experts, foraus defined three challenges with a link to foreign policy, in which action is particularly needed: How to square biodiversity conservation and economic development? How to make trade more biodiversity-friendly? And how to improve global governance around biodiversity conservation? foraus discussed these questions with over 100 participants from various backgrounds. The process resulted in 43 ideas on biodiversity conservation, four of which were developed further and are presented in this publication.
Back to top